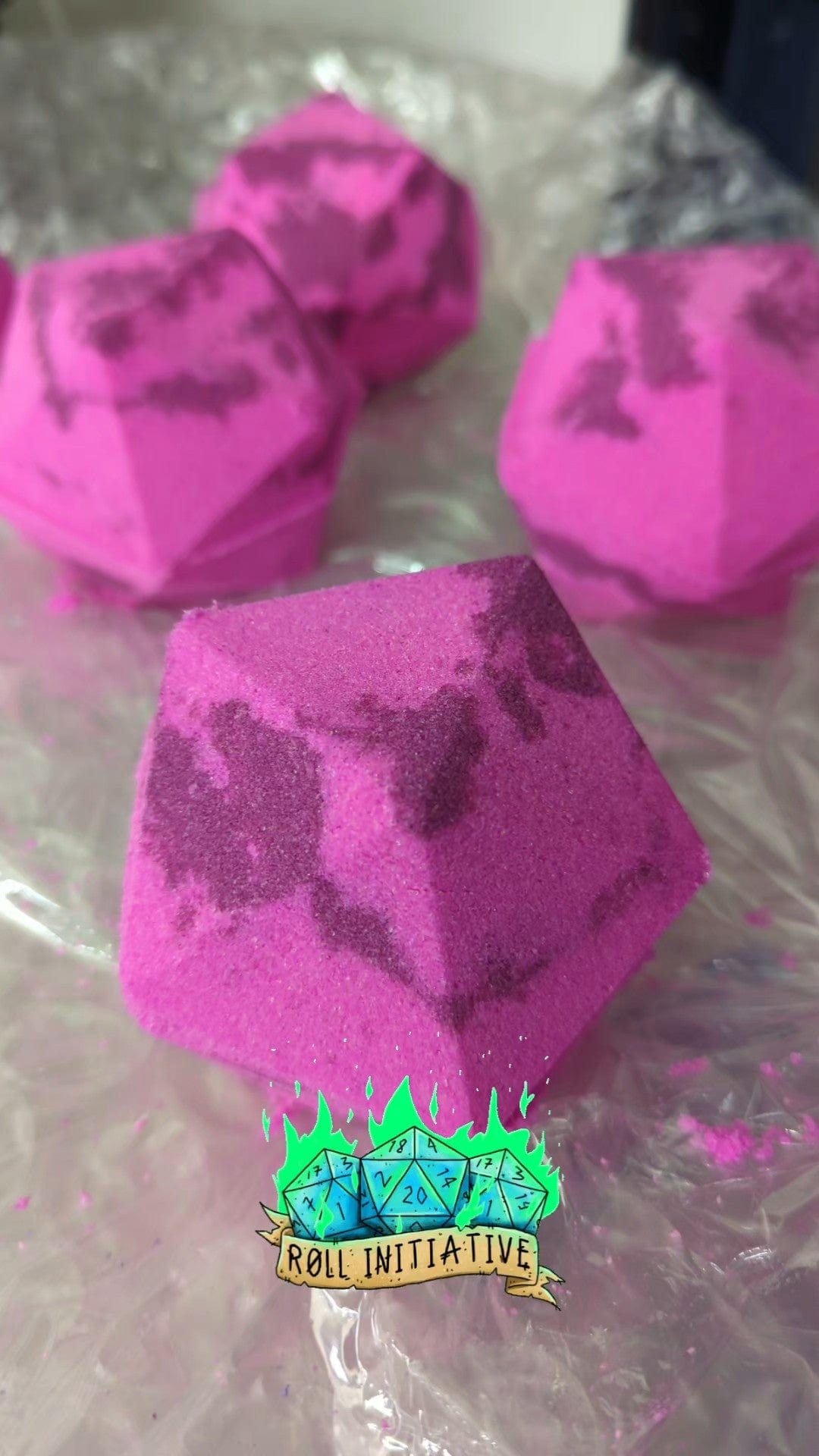 Let your bath become a stage for vibrant relaxation with our Bard Dice Bomb. Featuring an enchanting...
Availability:
Out Of Stock
Free Shipping
Free standard shipping on Canadian orders over $75
Let your bath become a stage for vibrant relaxation with our Bard Dice Bomb.

Featuring an enchanting pink swirl design, this bath bomb is a harmonious blend of art and aroma. Immerse yourself in the invigorating scent of "Energy," a bright citrus blend that will awaken your senses and set the stage for a symphony of relaxation.
Inspired by the Bard class in D&D, this bomb is more than just a bath enhancer; it contains a full set of 7 random polyhedral dice ready to roll into your gaming arsenal. When your adventuring party needs a break from the action, treat yourself to a bath that's both soothing and energizing.
Let the fizzing colors of pink and the refreshing citrus scent rejuvenate your spirit as you roll for relaxation. With skin-softening rice bran oil, this bath bomb leaves your skin feeling as smooth as a Bard's melody. Transform your bath into a captivating performance with our Bard Dice Bomb and enchant your senses with every soak.
*** This product does not grant the use of Bardic Inspiration.
About the scent: Refreshing scent features top notes of lemon lime and grape, accented with the delicate floral aroma of rose, followed by a grounding combination of vanilla and balsamic.
Minimum size: 340 g and 4" x 3.5" x 3.4". As each bath bomb is made by hand, the exact weight and colour may vary. One mystery full set of 7 dice in each bath bomb.
Ingredients: Sodium bicarbonate, citric acid, oryza sativa (rice) bran oil, potassium bitartrate (cream of tartar), polysorbate 80, aqua, parfum, CI45100, CI17200